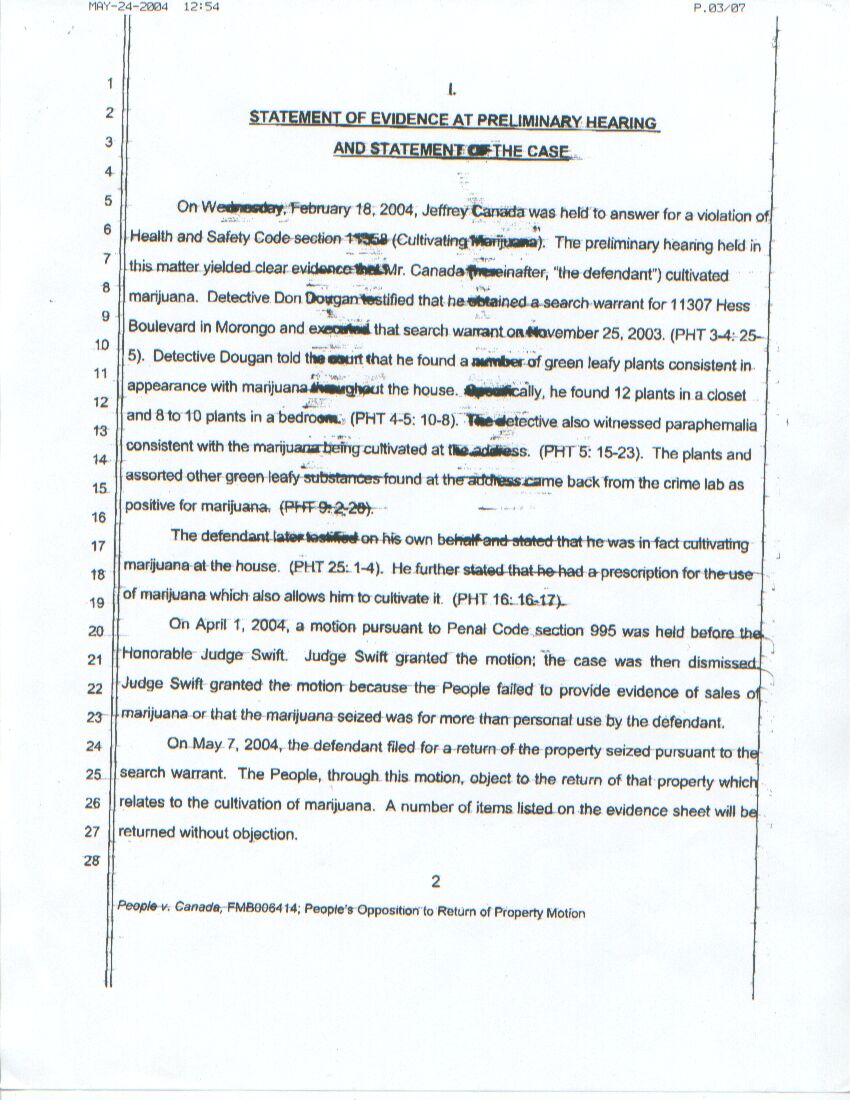 Return of Property Opposition
May 24, 2004 - page 2

 1                                         I.
 
 2                    STATEMENT OF EVIDENCE AT PRELIMINARY HEARING
 
 3                            AND STATEMENT OF THE CASE
 
 4
 
 5       On Wednesday, February 18, 2004, Jeffrey Canada was held to answer for a violation of
 
 6  Health and Safety Code section 11358 (Cultivating Marijuana).  The preliminary hearing held in 
 
 7  this matter yielded clear evidence that Mr. Canada (hereinafter, "the defendant") cultivated
 
 8  marijuana.  Detective Don Dougan testified that he obtained a search warrant for 11307 Hess
 
 9  Boulevard in Morongo and executed that search warrant on November 25, 2003.  (PHT 3-4: 25-
 
 10  5).  Detective Dougan told the court that he found a number of green leafy plants consistent in
 
 11  appearance with marijuana throughout the house.  Specifically, he found 12 plants in a closet
 
 12  and 8 to 10 plants in a bedroom.  (PHT 4-5:  10-8).  The detective also witnessed paraphernalia
 
 13  consistent with the martijuana being cultivated at the address.  (PHT 5: 15-23).  The plants and 
 
 14  assorted other green leafy substancs found at the address came back from the crime lab as
 
 15  positive for marijuana.  (PHT 9:2-28).
 
 16       The defendant later testified on his own behalf and stated that he was in fact cultivating
 
 17  marijuana at the house.  (PHT 25: 1-4).  He further stated at he had a prescription for the use
 
 18  of marijuana which also allows him to cultivate it.  (PHT 16: 16-17).
 
 19  On April 1, 2004, a motion pursuant to Penal Code section 995 was held before the
 
 20  Honorable Judge Swift.  Judge Swift granted the motion; the case was then dismissed.
 
 21  Judge Swift granted the motion because the People failed to provide evidence of sales of
 
 22  marijuana or that the marijuana seized was for more than personal use by the defendant.
 
 23       On May 7, 2004, the defendant filed for a return of the property seized pursuant to the
 
 24  search warrant.  The People, through this motion, object to the return of that property which
 
 25  relates to the cultivation of marijuana.  A number of items listed on the evidence sheet will be
 
 26 returned without objection.
 
 27
 
 28
 

2



 People v. Canada, FMB006414; People's Opposition to Return of Property Motion.
 
 
copyright © 2003-2015 J. Craig Canada aka
palmspringsbum
.
Commercial use prohibited without consent. All rights reserved.