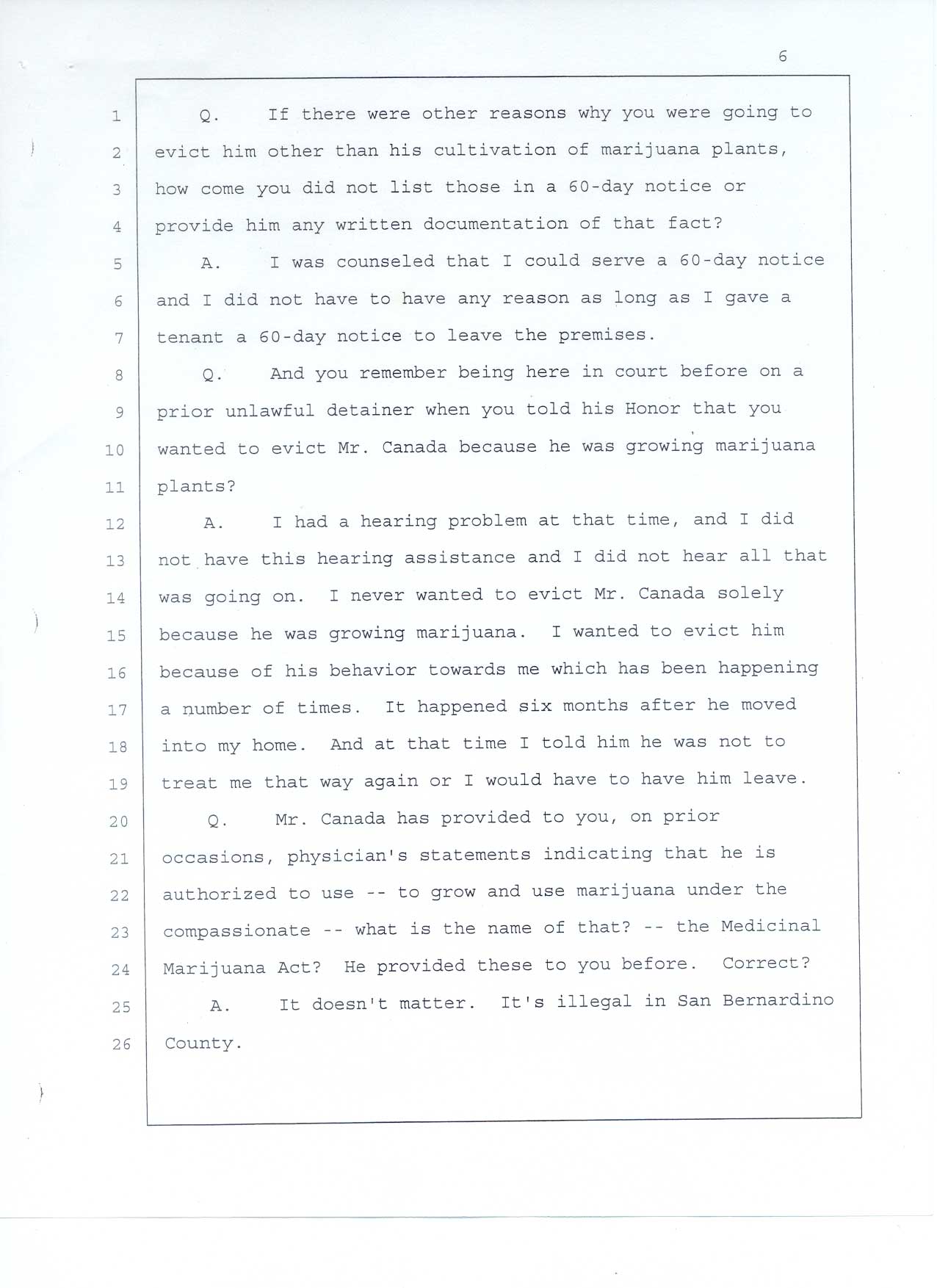 Last modified: July 11, 2012 5:56pm CDT
Trial Transcript CMB 11535
June 09, 2004 - page 6

  
                                                        6
  
  1 	Q. 	If there were other reasons why you were going to
  
  2  evict him other than his cultivation of marijuana plants
  
  3  how come you did not list those in a 60-day notice or
  
  4  provide him any written documentation of that fact?
  
  5 	A. 	I was counseled that I could serve a 60-day notice
  
  6  and I did not have to have any reason as long as I gave a
  
  7  tenant a 60-day notice to leave the premises.
  
  8 	Q. 	And you remember being here in court before on a
  
  9  prior unlawful detainer when you told his Honor that you
  
  10 wanted to evict Mr. Canada because he was growing marijuana
  
  11 plants?
  
  12 	A. 	I had a hearing problem at that time, and I did
  
  13 not have this hearing assistance and I did not hear all that
  
  14 was going on. I never wanted to evict Mr. Canada solely
  
  15 because he was growing marijuana. I wanted to evict him
  
  16 because of his behavior towards me which has been happening
  
  17 a number of times. It happened six months after he moved
  
  18 into my home. And at that time I told him he was not to
  
  19 treat me that way again or I would have to have him leave.
  
  20 	Q. 	Mr. Canada has provided to you, on prior
  
  21 occasions, physician's statements indicating that he is
  
  22 authorized to use -- to grow and use marijuana under the
  
  23 compassionate -- what is the name of that? -- the Medicinal
  
  24 Marijuana Act? He provided these to you before. Correct?
  
  25 	A. 	It doesn't Matter. It's illegal in San Bernardino
  
  26 county.